Swtor MCR-99 Droid Reconnaissance Legacy Achievement Guide for The Droids You're Looking For. You can find this achievement under
Legacy > Achievements > Location > General > Macrobinoculars > The Droids You're Looking For
. In order to complete this achievement you should track down and mark MCR-99 Droids with your Macrobinoculars.
Some basic info regarding this achievement :
You can start doing it as soon as you reach level 52 and acquire Macrobinoculars from appropriate Macrobinocular mission droid ( Republic Macrobinoculars Droid / Empire Macrobinoculars Droid )
There are some MCR-99 Planet Achievements which can be completed only as specific faction (Empire or Republic)
Completing all Planet MCR-99 Achievements gives you X Legacy Points
Upon completing all Legacy Achievements for one faction you will be granted with additional reward MCR-100 pet through in game mail, that is unfortunately bugged at the moment, but according to Swtor support problem will be resolved in future patches.

Protocol Droid M0-T0, Human-Cyborg Relations: This particular case appears to have been caused by a bug within the game that will need to be corrected in a future game update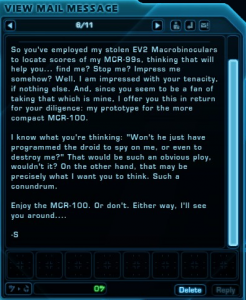 List of Planet MCR-99 Achievements :
Source:
Official MCR-99 droid locations (hidden planetary achievements)
,
MCR-99 Droid Locations post 2.0
on Swtor official Forums. We would like to thank SWTOR community members for all additional information.