While finishing the quests on any planet you will receive planet commendations as a quest reward or monsters' drop. On starting planet (in this case Tython) you need to collect 8 Tython Commendations for buying light or medium armor chest.
Specialty Goods Vendors
are usually located in the main city/temple. On Tython you can find Shiden – Specialty Goods Vendor in the Jedi Temple Cantina.
On the Republic Fleet Carrick Sattion commendation vendors are located to the South-East side of the map in the
SUPPLIES AREA
. You can find there the following Vendors:
Alderaan Comendations Vendor
Balmorra Comendations Vendor
Belsavis Comendations Vendor
Corellia Comendations Vendor
Coruscant Comendations Vendor
Hoth Comendations Vendor
Nar Shaddaa Comendations Vendor
Ord Mantell Comendations Vendor
Taris Comendations Vendor
Tatooine Comendations Vendor
Tython Comendations
Voss Comendations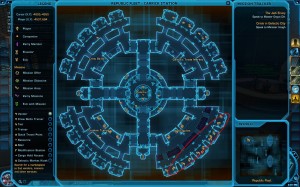 Tython and Ord Mantell commendation armor appearance
PvP and Fleet Commendations
After completing a space mission and daily space quests you will receive
Fleet Commendations
which can be used for
upgrading the starships
. PvP players can earn two types of Commendations:
Warzone Commendations
from Warzones and
Mercenary Commendations
from open world which can be used for buying high level PvP gear with
PvP Stats
.