SWTOR Champion of Tatooine achievement can be completed by both Empire and Republic. You can find this achievement in Legacy section, under Achievements – Tatooine – General. There are twelve opponents you need to defeat in order to acquire this achievement and 25 achievement points.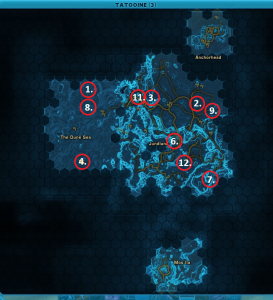 Their names and locations are :
Brenak The Strategist (The Dune Sea)
Chief Garrok (Jundland)
Chief Roh'Saren the Red (Jundland)
Deshor the Tactician (The Dune Sea)
Frenzied Scyk (The Dune Sea)
Jedi Master Siegford Grey (Jundland, Republic Neutral)
Kortawa the Hunt Master (Jundland)
Nekra the Warlord (The Dune Sea)
Polarin the War Marshal (Jundland)
Sand People Flayer (no more needed for achievement as of 2.3.1 Patch August 21)
Sand People Zealot (Jundland)
Sith Lord Towe (Jundland, Empire Neutral)
Back to
Swtor Planet Elite or Champion Hunt Guide
.