SWTOR Champion of Taris
achievement can be completed by both Empire and Republic. You can find this achievement in Legacy section, under Achievements – Taris – General. There are two tasks that you should complete in order to acquire this achievement and 25 achievement points. The tasks are Liberator of Taris (Republic) and Tyrant of Taris (Empire). Each of these tasks has three champions that should be defeated. Upon completing each task you will gain 10 points.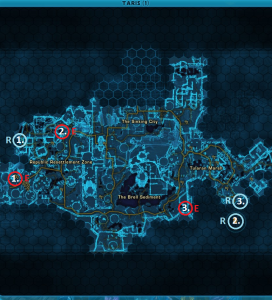 Liberator of Taris
(Republic) names and locations are :
Tyrant of Taris
(Empire) names and locations are :
Back to
Swtor Planet Elite or Champion Hunt Guide
.