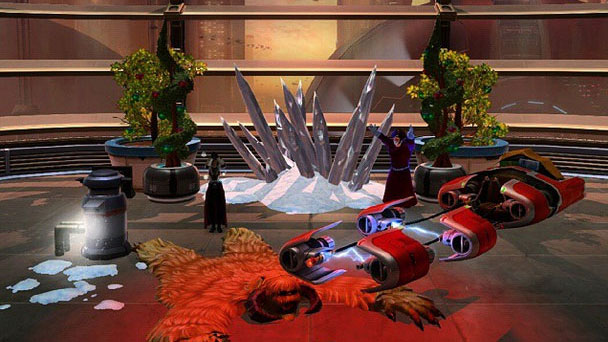 This year SWTOR Life Day Event starts on December 16th, 2014. Celebrate the occasion from December 16th 2014 until January 6th, 2015 at 4AM PST (12 Noon GMT). The Master of Ceremonies vendor is now available on both Fleets, and sells the following items: Life Day Snowball Bomb Ability, Blue-Purple Life Day Holo-tree Decoration, Gold Life Day Holo-tree Decoration, Sleigh I Vehicle, Cyan Sphere Vehicle, Life Day Tree Fireworks.
We have prepared for you two guides:
In the list below you can take a look at the event rewards and items that will be available via Cartel Market during this event.
Life Day Wampa Rug
Life Day Ceiling Light (Globes) – available via Cartel Market
Life Day Ceiling Light (Icicles) – available via Cartel Market
Life Day Snowblower – available via Cartel Market
Life Day Medium Voss Tree – available via Cartel Market
Life Day Small Makeb Tree – available via Cartel Market
Life Day Holo-Tree
Life Day Snowblower – available via Cartel Market
Snow Mound with Icicles – available via Cartel Market
Life Day Wall Freezer Unit – available via Cartel Market
Life Day Colored Holo-Trees are quest/event rewards
Life Day Reveler – (he throws snow bombs at you!) – available via Cartel Market
Wampa Mini-pet – available via Cartel Market
Vectron J0-1Y Mount – available via Cartel Market