Life Day Event is introduced as a part of SWTOR Second Anniversary celebration, which lasts between December 17th, 2013 and January 1st, 2014 (begins and ends at 2am PST/ 10am GMT). During this period, check out your mailbox for free rewards like YR-O2Scout Galactic Fighter paint job and Second Anniversary Fireworks (box that holds 25 fireworks). Along with these rewards, new vendor can be found in Galactic Trade Market area, where you can buy the following 4 items:
Cyan Sphere Speeder (costs 16 Grey Helix Components and 36 Snow-Covered Parcel)
Fireworks: Life Day Day Tree (costs 500 credits)
Life Day Snowball Bomb (costs 1 000 credtis)
Sleight I Speeder (costs 24 Snow-Covered Parcel)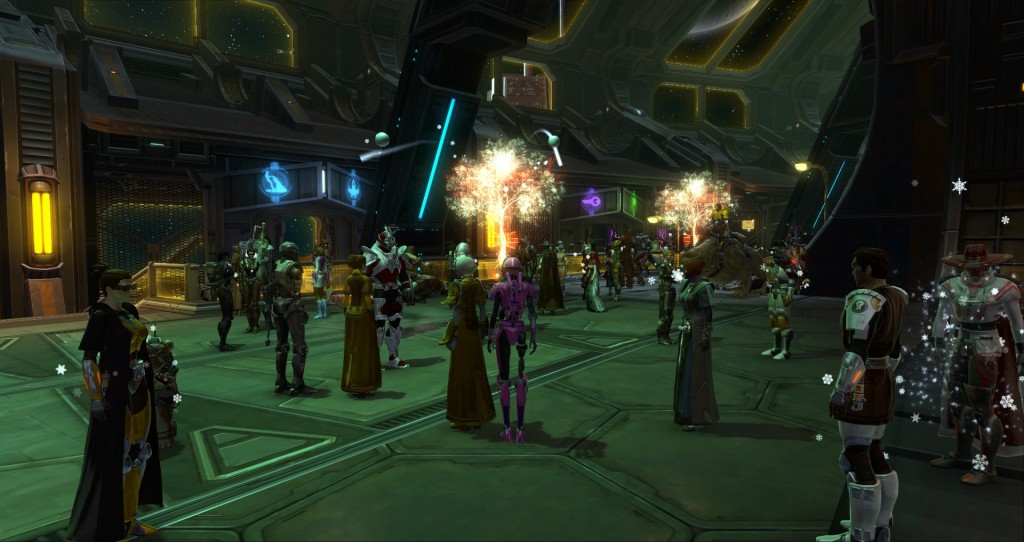 After throwing a Life Day Snowball on your target, you have a small chance of acquiring a Snow-Covered Parcel, as a part of successful "
A Special Snowflake
" mission completion. Achievements tide to this event can be completed through gathering Snow-Covered Parcels.
After collecting a Snow-Covered Parcel you'll receive achievement "
Jolly Parcel Peddler
", for 25 Snow-Covered Parcels achievement "
Merry Life Day To All!
", for 100 Snow-Covered Parcel achievement "
To All A Good Night!
" and legacy tittle: "
A Special Snowflake
". Each of these three achievements rewards you with one achievement point.
Life Day Vendor Items
Republic Scout Paint Job
Imperial Scout Paint Job