This giveaway is now over. Thank you all who participated and congratulations to the lucky winners.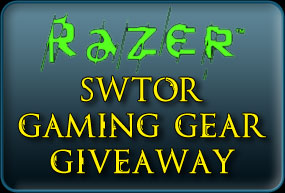 We had this giveaway in planning for a long time and we are very happy to be able to finally bring it to you.
Razer
, maker of high quality gaming peripherals, was kind enough to provide us with some awesome SWTOR Gaming Gear to give away to our visitors. They have a whole
line of peripherals that are especially made for The Old Republic
and accompany the game in a great way. We wrote a
review of the SWTOR Mouse
and the Headset and Mouse mat review are on their way as well. In short, this is some seriously awesome PC gear that all our visitors have a chance to win. Even if you do not win one of these in our giveaway I strongly suggest you consider getting one of these Razer SWTOR peripherals.
By entering this giveaway you can win one of three computer mice or one of three USB headsets or one of three SWTOR themed mouse mats. We will not ask you to jump through hoops to be eligible to win. You can just follow us on twitter, or like our facebook page. Also, if you already did these two things in the past you can
post in our forums and submit a SWTOR related image or media
(screenshot of your character, video of your favorite SWTOR moment or even some cos-play images) to enter the contest (HINT: this will give you more chance to win). You can do all three things to have the maximum chance of winning.
a Rafflecopter giveaway
The Fine Print:
-If the person that wins the prize does not reply within 36 hours of being announced a winner we will give the prize to the next in line.
-As this contest is a public promotion we ask that you participate in the marketing efforts of this promotion, you will be required to post publicly on twitter after the contest is over that you are the winner and that you won this item via the swtor-spy.com website promotion and you acknowledge the fact that your status as a winner will be used openly in public.
-Winner will be chosen at random for all those who qualify.
– Your privacy is of utmost importance to us and any and all private information we might be provided with because of this contest will remain private and used only to ship your prize. There will be no sharing of information with any third party or for any reason at all.
– You might be required to provide us with a shipping address that we can ship the prize to. There may be customs fees or taxes that may incur due to international shipping. SWTOR Spy will not be responsible for paying these or any other fees outside of sending the package with the prize to the winners.