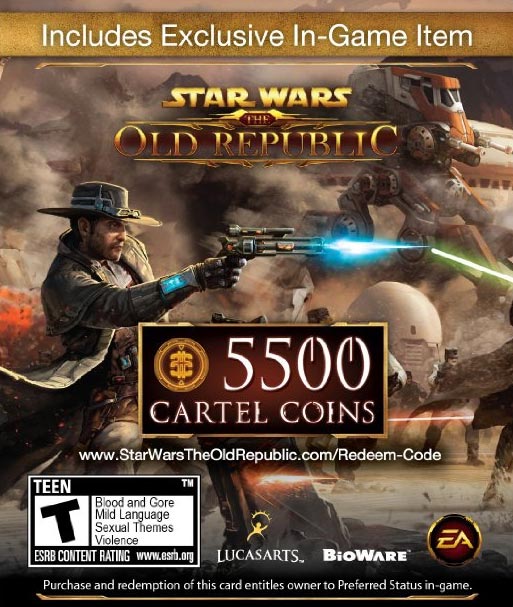 Star Wars: The Old Republic 5500 Cartel Coins Card is 15% off at ‪
Amazon‬.com
through Monday 17, 2014. This item is available only to customers located in the United States and who have a U.S. billing address.
The Amazon 5500 Cartel Coins Card comes with a unique in-game item.
Key Redemptions receive an Amazon exclusive in-game mini-pet, Imperial Scout "S-12 Blackbolt" Starfighter
To activate your 5500 Cartel Coins Card, follow these instructions:

Go to www.swtor.com/redeem-code and follow the instructions to activate your Cartel Coins Card.
Log in to play Star Wars: The Old Republic.
Open your in-game mail and right-click on your pet to move it to your character's inventory.
Purchase of Cartel Coins online or at a participating retailer gives you Preferred Status offering enhanced movement, chat, trading, and item storage in-game. More info available at www.swtor.com/free/features.
Cartel Coins cannot be used to purchase subscription time. Choose from a variety of subscription plans online at www.swtor.com/buy or purchase a 60-day Pre-Paid Game Time Card from Amazon(LINK)
Cartel Coins Cards also make a wonderful gift for Star Wars: The Old Republic players!